Digbeth Hall offers the same delectable and authentic taste what a person looks over while searching for an Indian wedding Venue. We know how special a wedding can be for someone. So we cover each and every aspect under Indian wedding from Mehndi, Mandap, catering with unique wedding ideas.
Our highly experienced and dedicated staff brings our place under unique venues in UK. We are well versed with our client in all traditional ceremonies and can support our client throughout the occasion. If you are planning for a celebration or special occasion Digbeth Hall can provide you with full wedding decorations, care hire and exclusive wedding packages as per your requirements.
One of the most important parts of the day is catering-we have huge area which can afford around 2000 guests (seated without tables) at a time.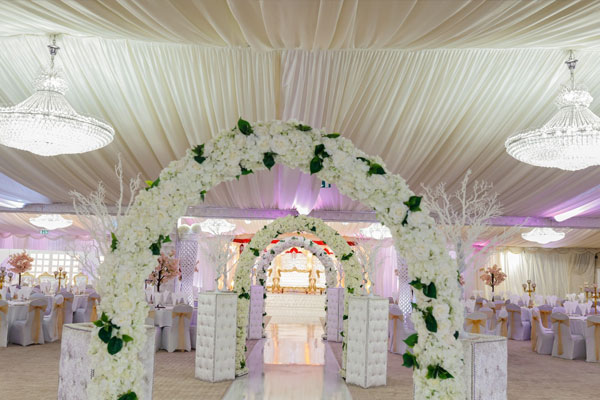 With our experienced and award winning chefs we provide wedding catering services of superior quality and food and cuisines makes you fully satisfied. Not only we are top wedding caterers but we are also very conscious to ensure that wedding catering is eco friendly, and use local and organic produce wherever possible. Our food skills and experience are continued to provide our clients with some of the best food and catering services while searching for an Asian wedding venues and Indian wedding Venue.
Everyone has some unique ideas for wedding decorations and wedding planning. With our client friendly and cheap wedding hall services packages you can select from the latest in lighting technology and interior decoration which are designed in such a way that suits your taste. Once the wedding them, design and concept is confirmed we then handle the correspondence with our supplier and make efforts to pass saving directly to you.
We are fully non-alcoholic marquee hire in UK.
Call 0121 643 1122 To Discuss Your Needs
Our team is waiting to discuss all your requirements or please send us an email.